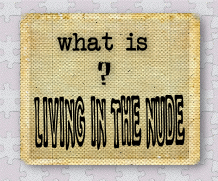 Jane, 39, Brighton, UK:

Since my husband and I became naturists, we've been rambling, gone shopping for grosseries and promenaded along seafront - all while naked. Once you get used to not wearing anything, the whole concept of

getting dressed on a warm day starts to seem rather silly. And it is needless to say that at home we're always naked!

It's not about having the perfect body, it's about having confidence.